Here you have all the information you are looking for about Ste. Genevieve License Office. It is located at the following address: 753 Ste Genevieve Dr, Ste. Genevieve, MO 63670, United States, in the city of Missouri.


Schedule
Monday: 8:30AM to 5PM
Tuesday: 8:30AM to 5PM
Wednesday: 8:30AM to 5PM
Thursday: 8:30AM to 5PM
Friday: 8:30AM to 5PM
Saturday: Closed
Sunday: Closed
Dena Kreitler: This office is under new management with all new staff. They are friendly, very helpful, accommodating and efficient. It is a breathe of fresh air walking into a well lit and clean office. The office is accommodating with spacing and hand …
Don Pritchard: I was at the license office on Wednesday, January 20, 2021. I was amazed it its spaciousness. It well lit and you sit at the counter instead of standing, a big plus for older folks like myself. The staff was very pleasant and the whole experience a wonderful one.
Jacob Jones: Wow! The new office is great! It's well lit & clean!! the parking for the new office is great! the NEW staff were very friendly & very helpful! i was in and out super fast! Great job to new management and new staff!
Joe Rozier: Today I had the very pleasant experience of visiting the Ste. Genevieve License Office. From the time you enter the front door it is both professional and friendly in terms of customer service. I had the Ste. Genevieve office for many years …
Elizabeth Reinert: This new office is spacious, well lit, clean and the environment is all around great! The NEW staff is super friendly and helpful. I was in and out in a timely manner.
Jason Schott: Took 6 vehicles in to get registered and it went so smoothly. Great atmosphere and staff is really friendly. Much better experience than the old Office.
Kent Orrick: We were waited on immediately. What we went in for was taken care of, facility was very clean and new. Would highly recommend!
Kara Grass: the new office is spacious and clean! Very welcoming! the staff and management were very helpful and kind!
Megan S: New location. New FRIENDLY faces! Thankful the license office is back in Ste Gen – thank you Chamber!
Tiffany Naeger: Very spacious space! Great atmosphere and great employees!
Timothy Naeger: Loved the atmosphere. They let me drop my titles off and came back in when it was done so didn't have to wait for all of them to get done!
Rosemary Faupel: So easy, friendly staff, great looking office. Thank you!
Joan Flieg: I realize that we are at a difficult position during the COVID-19 crisis, but an update online stating that your office is currently closed, rather than showing that it is open, could 'win back' the communities trust that you may earn a …
Pulga: I had recently moved from another state so I called and I spoke with someone there who let me know everything I needed to know to register my car in MO. I went in and found out it was the older man there. He was friendly and helpful as …
Julie Orrick: Office manager is excellent and great location
jeremy henderson: The old man is extremely rude. Save time and drive out of the county.
rick buzzanga: I hit one star so I can write a review. In reality the office deserves to be shut down and reopen under new management, with new employees. I will never go to the St. Genevieve branch again. I have file a complaint with the department of …
Tim Pollock: Worst license office to deal with in the area. The owner of the place is the issue. I will travel elsewhere to just take care of my DOR needs.
Mike Parr: The staff is always profesonial and straight to business
Kimberly Lane: Went to this particular office because Festus is always crowded. The older white guy with glasses was EXTREMELY rude. I will NEVER return here again. I would rather wait 2 hours in Festus at least the ladies there are friendly.
Nathan Bess: Worst experience ever they had me running back and forth several times for more information instead of giving me the documents I needed the first time since they are the ones who have to provide the documents they cannot be obtained any other way it took several hours to do something that should have taken minutes
Finally Deleted my name: Horrible just plan horrible
You can scan this qr code to send the information to your phone.
What can I do in this office?
Driver´s license.
Identification cards.
Registration.
Titling.
Plates.
CDL Written.
CDL Driving.
Make an appointment.
License reneval.
Permit test.
Real ID.
Photo of the exterior: Ste. Genevieve License Office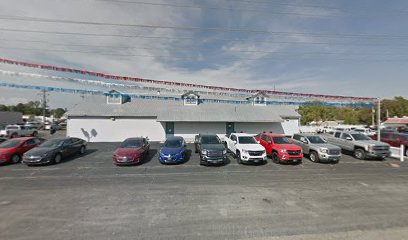 Functions of the department of motor vehicles
DMV offices have many functions. If you are a driver (or want to be one), going to one of these offices will be something you will have to do at some point in your life.
For example, one of the most popular functions is to renew your driver's license. It's a simple procedure, where you may be asked to take a health test to make sure you are fully fit to drive. It is also a place where people go to get their license. To do so, they will have to pass a theoretical and practical test.
In case you buy a vehicle, you will have to go to register it in your name. This procedure is also done if there is a purchase between individuals, that is, if someone sells their vehicle and you buy it, you will have to go and pay a small fee.
License plates must also be handled here. Whether it is to give you a permanent license plate or a temporary tag, you should ask for information if you buy a car or motorcycle.
In general, DMV offices are designed to handle everything that has to do with motor vehicle paperwork. There are a multitude of offices in Missouri where you can carry out all the formalities you need. In addition, in Ste. Genevieve you can request an appointment online if necessary, as well as pay fees and other expenses without having to go anywhere.
The Department of Motor Vehicles is located throughout the United States. The people who work there will be able to answer your questions or suggestions in case you have any problems, and surely in a very short time you can have everything you need to drive safely and within the law.
Search other offices by state