Here you have all the information you are looking for about DMV. It is located at the following address: 20 Terminal Dr #103, East Alton, IL 62024, United States, in the city of Illinois.


Schedule
Monday: Closed
Tuesday: 8AM to 5:30PM
Wednesday: 8AM to 5PM
Thursday: 8AM to 5PM
Friday: 8AM to 5PM
Saturday: 7:30AM to 12PM
Sunday: Closed
Kristie Barton: Employees are pretty much over it all every time I come in. Can't fault them for being short though, who actually would enjoy that job…
Wesley Kearney: Kelly really needs some retraining when it comes to customer service. I understand working during covid can be stressful but that is no excuse to be rude, impatient or to scream "what apartment number do you live in" when handed a lease …
Nick Bauer: Worst dmv I've ever been to, rude and beyond slow, everyone there should be fired and repla Ed with people who actually want a job and can do it quickly and efficiently, waited 4+ hours just to get an ID, this location is ridiculously slow, …
D. Peterson: Never had a problem here a lot better than Granite City . I just think CDL facilities should be separate facilities
Tristan Stars: Fast service. Long lines, but they managed great.
A Pfeiffer: I was nervous after reading all the reviews, but I went in today and had the most pleasant experience! The lady checking everyone in (wish I remembered her name) keeps everything running smoothly and efficiently. She makes sure you have …
Sharon Mathews: Even though I had to wait outside for over an hour, once inside the employees were pleasant amd efficient.
el coyote lol.: dont tell people that a medical document from a stateor government agency is ok as a real ID requirement then when they get there you say you dont accept documents from government or state run agencies. shady. it clearly says medical documents are ok. i had my cable bill and my medical documents.
kay: They have the worst customer service.
Zac Cloninger: Using RESTURANT PAGERS would allow people to sit in thier a/c and wait and not have people fallimg over like what happened today. My wait was 3 hours today (5/17) for people curious.
Christian Bast: Arrived 10AM on Saturday to renew my license while on leave. DMV was already closed, even though the place says on their front door they're supposed to be open until 12PM! What an embarrassment.
Ad Do: They checked my paperwork to make sure I had everything I needed before directing me to a line where I waited 3 hours for my turn, only for them to tell me I needed a different paper. What a waste of time
Randy Randleman: Can't even answer their phones
K. Es: I would only recommend this facility if you are doing something that is simple, quick, and short. I have so many issues with this facility to where I have called the Secretary of State to confirm something small, something this facility or …
Emily Thyer: CAUTION- This place is the worst dmv! We waited an hour for my daughter to get her license to be told that having a permit for 9 calendar months isn't the requirement as the state and teachers had said. They required her to have her permit …
Chris Vance: Depends on what your going there for. If you don't have the right paperwork (as I didn't) they were rude (in my opinion). I think they need some professional development in "compassion". Just my opinion.
Euriel Taylor: The workers are very rude, and slow & laugh at customers when they can't be helped.
nazareth barker: State says the DMV should be Open. They're closed due to covid fyi for anyone trying to call or visit
Malicia Roxx: Never had a problem here. Maybe it's because I make sure I have all of the info required from me before I try to get service. The staff has always been cool to me and professional. Some of the people that come in there, however, are a whole …
Bill Pryor: I have been here twice in the last month and I thought everyone was very friendly and helpful.
Nichole Porter: Very rude when I went to get my license. Went right after school, as soon as I could, and the person who gave me my ticket was rude from the start and then took 45 minutes to get called up to the counter again just to get told I can't get …
Genevieve Kelly: This place is never opened.
B W: If I hated my job as much as the staff at this branch does, I would find another line of work.
David Weldon Hall II: During my electronic drivers test, I took my test and passed with an 80% which means that 20% of the rules of the road I was totally unaware of which may or may not have resulted in a crash totalling my vehicle. During my physical test of …
Linsa Dean: They acted like it was my fault for moving states and not having my co-signer with me. Horrible place with awful service. Go to a different dmv. It's worth the drive.
SRTJeff 618: For those of you leaving negative reviews go visit Edwardsville dmv office and you'll surely change your mind.
James Wilson: Trying to call this place if it even exists to see if they issue license plate sticker renewals and they won't even answer their phone! Tried numerous times. Horrible customer service.
Hoodlum X: I have a typo on my drivers license 😂 I apparently live in "Woodn River…" how hard is it to spellcheck? Come on.
Tyler Shear: This place will make any hardcore Democrat a Republican and want less government. This joke of a government facility is why people don't respect our country anymore.
Amy Cargill: The place was very busy and the employees were extremely rude. We left and will not go back.
Sara Mees: Every employee I've came into contact with (except Mike who is the sweetest person ever) are rude and mean. I've seen one employee yell at an elderly woman to read off the letters saying "all you have to do is read the letters left from …
Joe Certa: Never had problems with the staff. Just not enough employees to cover the population of the area. The "Serving Now" screen is antiquated and doesn't show all the called numbers. And, sometimes it works. Confusing.
Jennifer Matt: I'm a bit shocked at all the negative reviews. I have been to a few DMV's in Chicago and Chicago suburbs, as well as one in southern Missouri. all were terrible. I was amazed at how friendly the staff at the East Alton facility were. Most pleasant experience I have ever had at a DMV. Seriously.
Joe Unverzagt: Very easy to get along with !! Bruce, john, debby and the rest of the gang ive never had a issue when i have to visit. Keep up the great job !!
Chris Mercer: They are always closing early, slackers.
Beth Watkins: It's Saturday. Tried to call since 11am to find out information and they wont answer the phone. Don't CLOSE TIL NOON!!!
Charlo Hanray: The staff did not seem like they want to help. They seemed rushed I do not know why
skywatcher 9928: They hate the first amendment to the constitution they have cameras everywhere but if you want to record they want you locked in a cage
Frans Dinkelmann: Fast and efficient
wayne dugge: Very helpful
You can scan this qr code to send the information to your phone.
What can I do in this office?
Driver´s license.
Identification cards.
Registration.
Titling.
Plates.
CDL Written.
CDL Driving.
Make an appointment.
License reneval.
Permit test.
Real ID.
Photo of the exterior: DMV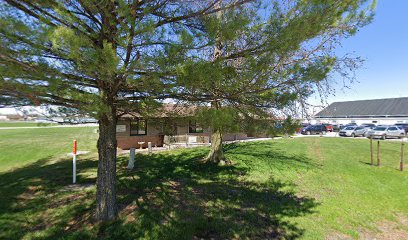 Functions of the department of motor vehicles
DMV offices have many functions. If you are a driver (or want to be one), going to one of these offices will be something you will have to do at some point in your life.
For example, one of the most popular functions is to renew your driver's license. It's a simple procedure, where you may be asked to take a health test to make sure you are fully fit to drive. It is also a place where people go to get their license. To do so, they will have to pass a theoretical and practical test.
In case you buy a vehicle, you will have to go to register it in your name. This procedure is also done if there is a purchase between individuals, that is, if someone sells their vehicle and you buy it, you will have to go and pay a small fee.
License plates must also be handled here. Whether it is to give you a permanent license plate or a temporary tag, you should ask for information if you buy a car or motorcycle.
In general, DMV offices are designed to handle everything that has to do with motor vehicle paperwork. There are a multitude of offices in Illinois where you can carry out all the formalities you need. In addition, in East Alton you can request an appointment online if necessary, as well as pay fees and other expenses without having to go anywhere.
The Department of Motor Vehicles is located throughout the United States. The people who work there will be able to answer your questions or suggestions in case you have any problems, and surely in a very short time you can have everything you need to drive safely and within the law.
Search other offices by state